reshared with kind permission from Barry Voss.
With this being an election year, the American people are looking for a leader. But what exactly is a leader? A leader is someone who not only is effective in positively influencing others, but who also demonstrates the character of a leader. People want  leaders they can trust to do what they say.  One's character is what makes trust possible.   This is true for all leaders, whether they are political, business or church leaders.
I believe that there are 5 basic characteristics of a leader:
Characteristic #1
First, they must have integrity. It means they say what they mean and do what they say. Too often leaders lose credibility because they do not follow through on their commitments.
Characteristic #2
Second, they must have wisdom. This is more than knowledge and reflects a leader's ability to analyze information and make positive and correct choices and decisions. Leaders lose influence when they make poor decisions or bad choices.
Characteristic #3
Third, they must have humility. Leaders must put the needs of others above themselves. Nobody likes a self-serving leader. Leaders lose support when they focus on their goals instead of the needs of their followers.
Characteristic #4
Fourth, they must encourage others. Leadership is not about the leader, but it is about the followers. Leaders who serve and encourage their followers are more successful than those who don't. Leaders lose followers when they focus on themselves.
Characteristic #5
Fifth, they must empower others. Leaders who won't delegate or develop other leaders restrict their own potential and that of others. Leaders lose momentum and growth when they don't tap into the capabilities of others.
The conduct of a leader is also reflective of their character. There are 7 ways a leader ought to conduct themselves according to 1 Timothy 3:2-3 above:
1. Be above reproach – no one doubts their character
2. Be self-controlled – they are disciplined
3. Be respectable – people look up to them
4. Be hospitable – they are open and welcoming
5. Be able to teach – they instruct and educate others
6. Be gentle – they respect others and are not harsh with their words
7. Be a servant – they focus on people, not money
These characteristics from the Bible define the conduct of a true leader. We must always endeavor to look for them when following leaders or electing them.
For previous articles on leadership click here. To access previous articles from Barry Voss, click here.
---
ABOUT THE AUTHOR:
Barry Voss and his wife Kim founded FaithLife Ministries in 2001 as a ministry to train and equip Christian leaders in the mission field. In 1996, Barry first heard the call to go to the mission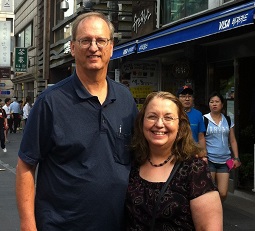 field. On that mission trip to Kazakhstan, he sensed God's call on his life to serve Him in a mission field ministry. He continued to respond to that call by going on several more mission trips to teach and minister in 1997. In 1998 he felt God's call to organize and lead mission trips, and so he recruited and led teams to Peru in 1999 & 2000 through Missions International, a Nashville based mission agency. In 2001, God led Barry and Kim to decide to incorporate in order to lead mission teams on their own, and so FaithLife Ministries was born. They led their first mission trip to the Philippines in May of that year. On that trip Barry taught a workshop on Church Administration.  Our Philippines host invited Barry to come back the following year and teach on that topic for an entire week at their Bible School.  As a result, Barry developed the Management For Church Leaders™ training course.  Since then this ministry has continued to grow as God has led us to more mission field contacts and opened up more opportunities for us to train and equip the leaders of His church.
In 2005, Barry was called to work full-time in this ministry. His focus is on church leadership and management training.  The Lord has continued to affirm our teaching and has led us to seek more opportunities and foreign trainers.
Related